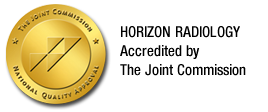 Let our proprietary system simplify your requests, reporting, and generating statistics.

May 25-28
Orlando, Florida
February 22, 2010
Horizon Radiology signs contract with Oklahoma hospital
Technology
Stability and Security
At Horizon Radiology, we pride ourselves on the stability and security of our operation. Whether late at night or over long holiday weekends, you can remain confident that any information about your patients and your facility is as safe with us as it would be with you.
Full HIPAA Compliance Horizon Radiology is a 100% US-based operation. Data is never outsourced to foreign providers. This means that our system is fully HIPAA compliant at all times.
99.99% Uptime
Horizon relies on secure and reliable high-speed connections over a VPN to our SAS-70 secured facility to facilitate the secure transmission of images and patient data. This advanced security protocol ensures that undesirable network communications are prevented and that all systems remain HIPAA-compliant. Multiple levels of redundancy give Horizon Radiology an uptime track record that is unsurpassed in the industry.
Technical Support
Horizon Radiology is here for you, even when things go wrong. Our help desk, staffed by a team of experienced and highly trained technical support personnel, is available 24/7. For frequently asked questions, RadRequest contains a complete web based help section. If you need to consult a radiologist directly or require troubleshooting assistance, we're always here for you!