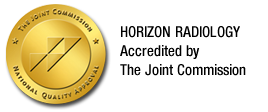 Let our proprietary system simplify your requests, reporting, and generating statistics.

May 25-28
Orlando, Florida
February 22, 2010
Horizon Radiology signs contract with Oklahoma hospital
About Us
Since 1997, Horizon Radiology has provided teleradiology coverage to hospitals and radiology groups across the United States. In recent years, an increasing demand for teleradiology among imaging centers, mobile imaging units, urgent care centers, and physicians' offices has prompted Horizon to expand our service offerings to meet the growing needs of these facilities as well.
Horizon continues to lead the field of teleradiology because our clients trust our experience, service, security and reliability. Our mission is simple: To meet the teleradiology needs of our clients, while maintaining their professional image, by providing fast and accurate radiology interpretations. We achieve this mission through a commitment to our four core values:
To process each study with a sense of urgency
To interpret each study accurately
To be committed to continuous quality improvement
To adhere to all industry regulations and standards
Experience
Our radiologists are all certified by the American Board of Radiology and have undergone Horizon's rigorous credentialing process that meets the strict guidelines of the Joint Commission (JCAHO).
Service
Enhanced quality of care. Increased productivity. Efficiency and overall revenue impact. Expanded service offerings. Broadened subspecialty offerings. Extended coverage in the community. These are advantages your facility can benefit from when you partner with Horizon Radiology.
Horizon's radiologists and support staff is committed to developing a long-term relationship with you, which, in turn, strengthens the level of care you are able to offer your clients. Horizon provides the reliability and quality expected from a trusted partner. Whether you operate an over-crowded radiology department in an urban hospital or a rural minor emergency clinic, our teleradiology services can be tailored to meet the unique and ever-changing needs of your facility.
Horizon's proprietary RIS system (RadRequest) streamlines communicating patient data, generating reports, and monitoring statistics. High-quality care for your patients and overall service excellence is our number one priority. That's why Horizon designed the cutting-edge RadRequest system: to make each step from submitting a request for an interpretation to reconciling monthly usage as simple and user-friendly as possible.
Security
With Horizon, data never leaves our secure HIPAA environment. Images and patient information are transmitted through a virtual private network (VPN) to our SAS70-secured facility. As an entirely U.S. based operation, patient privacy is never compromised as a result of routing images to foreign providers.
Reliability
High-speed transmission and multiple levels of redundancy ensure that Horizon Radiology is operational and available whenever needed. We maintain a track record of 99.99% uptime and back this up with 24/7 technical support.
Do More With Horizon Radiology
Your facility already provides top-notch care, and all physicians strive for continual quality improvement. Partner with the teleradiology specialists at Horizon Radiology today and elevate the level of medicine your facility offers. Our team of board certified radiologists and dynamic support staff, combined with our proprietary RIS system (RadRequest), benefit both you and your patients. We make set-up, routine use, billing and technical support easy so you can focus on what you do best: providing excellent medical attention to the patients we both care about.
Accredited by the Joint Commission (JCAHO)
By demonstrating compliance with The Joint Commission's national standards for health care quality and safety, Horizon has earned the Joint Commission's Gold Seal of Approval™.
"Achieving accreditation demonstrates Horizon has voluntarily sought an independent evaluation of its compliance with state-of-the-art performance standards," says Michael Kulczycki, executive director, Ambulatory Care Accreditation Program, The Joint Commission.
An independent, not-for-profit organization, The Joint Commission is the predominant standards-setting and accrediting body in health care. Since 1951, The Joint Commission has developed strict state-of-the-art standards for an array of healthcare organizations. The Joint Commission evaluates and accredits more than 15,000 health care organizations nationwide.
View The Joint Commission's Quality Report findings for Horizon Radiology by clicking here.